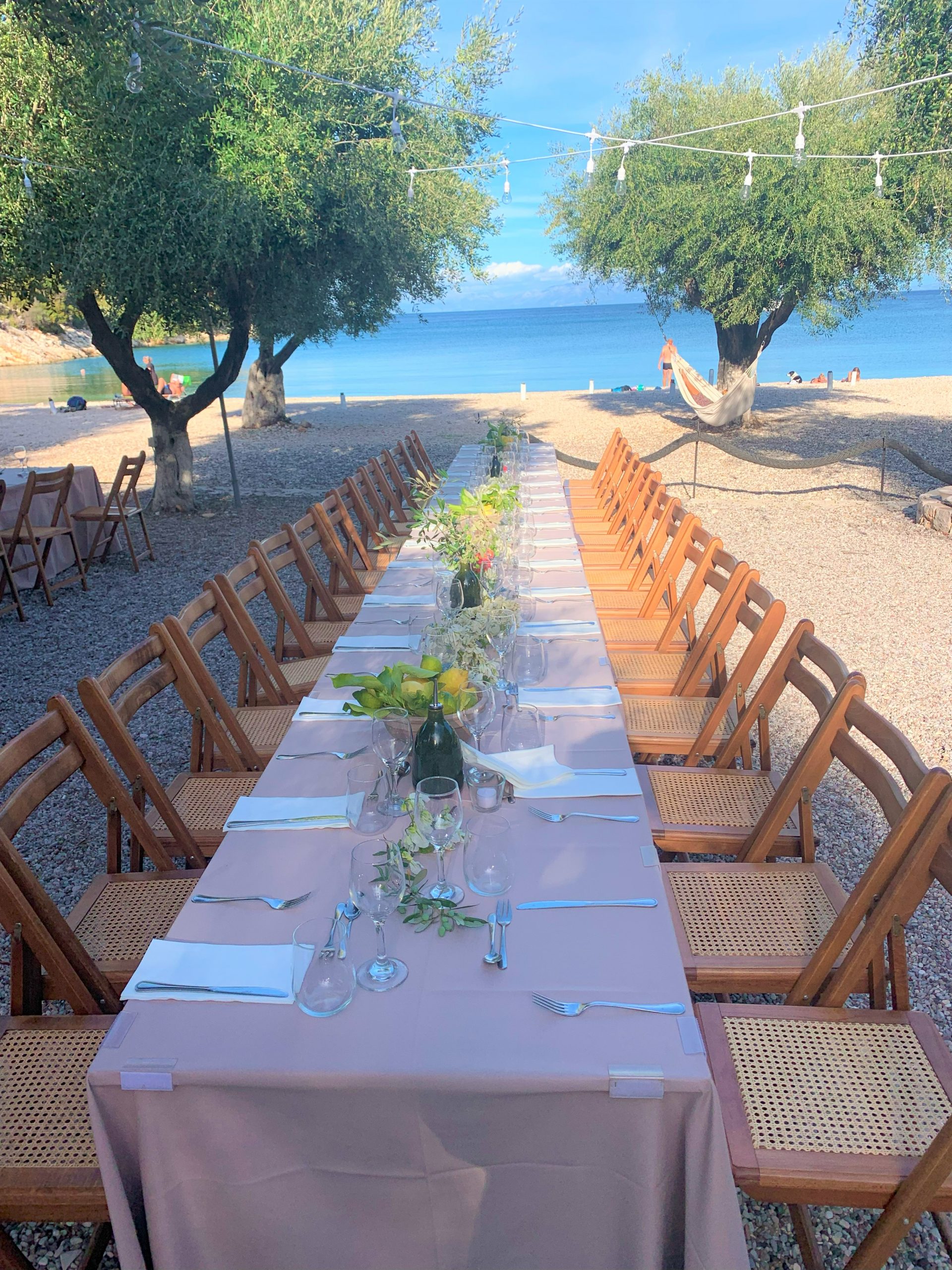 At MV properties, we had the privilege of organizing this intimate 50th birthday party at Filiatro beach.
Taking place in the middle of October, it was the end of the season, and the beach was private, peaceful and serene. It was the perfect setting to host this event of a close group of friends, about 40 people in total. We organized the Catering company Mythos from Kefalonia, to cater an incredible menu of simple Greek flavours at a high standard. We had our team at MV properties to set up the lights, and all the other decor, flow of events and management of all the people involved. There was a fantastic DJ, Dimos Kostopoulos, who mixed a great variety of music, keeping the whole party going, and creating a wonderful atmosphere.
The Guests arrived at around 17:00 with welcome drinks and canapes circling around. They could enjoy the perfect sun setting, with an array of colours scattered throughout the sky. The event was truly a great success especially due to the weather playing its role. After a mild storm the day before, we had luck on our side, with the most calm and tranquil backdrop. Dinner was served at 19:00 with a wonderful buffet of meat, salads, dips and vegetarian dishes. There was a bar set out by Mythos catering, offering various drinks and a fabulous variety of wines. The music began to pick up after dinner, which included the guests all dancing, creating wonderful memories of celebration.
There were hammocks laid out amongst the olive trees for the children to play and relax in. The client was thrilled with how the event turned out, exactly as expected, and it brings us no greater joy than to deliver to the client what they are looking for. It was wonderful to see a variety of nationalities coming together, friends from all parts of the world celebrating together at a wonderful event.
Thank you to the whole team which brought this great and memorable day for Andreas 50th Birthday on Filiatro Beach.
If you wish MV Properties to help you organise your event, please don't hesitate to contact us!