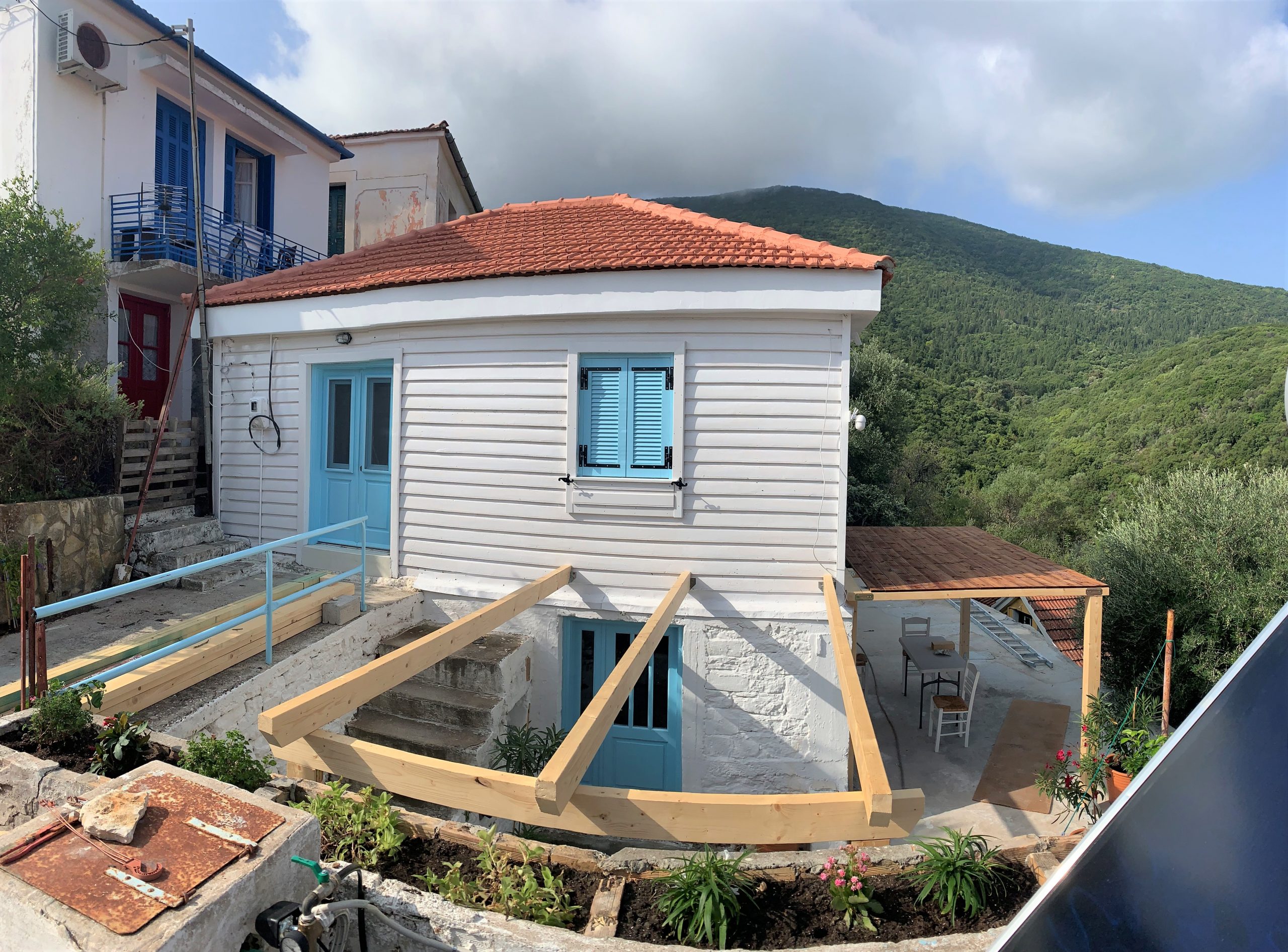 MV properties have been busy with a house renovation of a quaint little home on the hillside in Kioni that was recently sold. The new owners dreamed of keeping the house as authentic and true to its original form, while adding a splash of modern, graceful and uncomplicated flair.
January 2022:
Firstly our team moved in to clear the garden and inside area of all the unnecessary clutter to see the skeleton of the house. Then our team began to strip the house of all the deteriorated wood. The whole roof was dismantled beginning with the roof tiles and then the beams. All the wooden flooring was removed and the downstairs walls were peeled off the plastering to reveal the stone wall behind. Outside, a septic tanks system was underway with our team digging a huge square hole and then laying the foundation for the concrete and bricks to follow
Renovation update March 2022:
This renovation has been moving along very well. Despite all the rain we had, the new wooden beams for the roof were mounted along with the roof tiles to complete a brand new roof on the house. New wooden beams to support the new wooden floor of the first level have been installed. Our team has now begun with the drywalling in the upstairs area to create a new bedroom and guest bathroom on the upper level. The drywall for the bathroom has been finished in a white smooth cement. The colours of the house are kept very traditional using bright white, for that clean and fresh look and the shutters which will still be installed later will be in the traditional Greek blue.
Renovations update April 2022
The Kitchen has been installed upstairs and it too has a chic white smooth cement finish. A larger "trap-door" hatch was put in with new stairs built over the existing stairs to the downstairs bedroom, where the walls were all re-plastered leaving a gorgeous feature of the stone wall underneath. All new electricals have been established and all the plumbing has also been re-done with a beautiful simple bathroom fitted downstairs to make the bedroom an en suite.
Renovation update May 2022
New installation of doors and windows have been installed this month, with mosquito nets. And painting of the internal and external areas are giving the house a more complete feel.
Aircon installation has been done, and tiles in both bathrooms and kitchen.
Soon the finishing touches will be done. Stay tuned for more and exciting photos.
Videos of Progress so far:
Complete house internal video 2
Should you require any project management services, please do get in contact with us and we will be able to assist you. For a comprehensive guideline on how renovations and building project are handled on Ithaca, take a look at our Building on Ithaca brochure. Check us out on Instagram and Facebook.